New research published in early 2023 points to the need for cannabis users to be aware of the safety issues related to small children and edible cannabis products. 
In this US-based study researchers looked at data in the National Poison Data System for cases of exposure to edible cannabis products in children under the age of 6. The study found that between 2017 and 2021 exposures to edible cannabis products in children increased a whopping 1375% (207 reported cases in 2017 and 3054 cases in 2021).  The vast majority of these exposures (97.7% occurred in a residential setting. 
Of all the reported cases, 22.7% of patients were admitted to the hospital. 
This rise in edible cannabis exposures has a lot to do with cannabis legalization, making products more readily available. There has also been a trend towards more edible cannabis usage overall (versus cannabis flower) in both the US and Canada that is also a likely contributing factor. 
Compared to other cannabis products, edibles can appear much more appealing to small children given that many products come in the form of things like cakes, cookies, gummies and mints.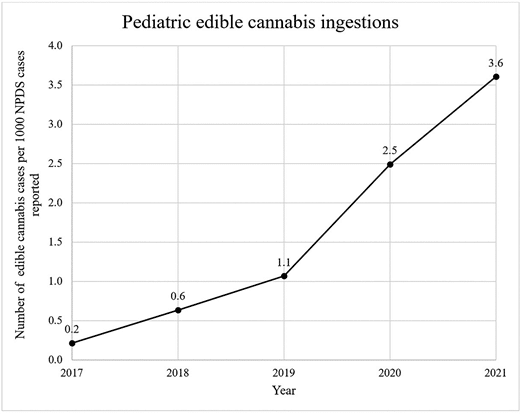 Of the total 6,842 reported cases between 2017 and 2021, children between the ages of 2 and 4 were the most likely to have accidently consumed edible cannabis products. 
Looking at the total cases of children who were admitted to a health facility for treatment, 8% were admitted to a critical care unit, 14% were admitted to a non-critical care unit and 36% were treated/evaluated and released. The remaining patients were either lost in the follow-up reporting and a small percentage (8%) saw parents either refuse care or not arrive at a health care facility after reporting the exposure. 
In Canada, a study found that since cannabis legalization there has been a 6 fold increase in unintentional cannabis exposures in children under the age of 10. 
How to Avoid Accidental Edible Cannabis Exposure 
If you do consume edible cannabis products or have them in your house there are steps you can take to minimize the risk of exposure to children and anyone else who may accidently consume edible cannabis. Afterall, while this article focuses on children, the same guidelines should be considered for households with older children and adults. 
Proper Secure Storage
Store your edible cannabis products in air tight containers with child-safety features. Be sure to label the container and make sure it is clearly visible. All cannabis products in Canada come with a "THC" label as well as the ingredients and dosage levels and you can easily tape that label to the container. This not only helps identify the items as containing edible cannabis products, but also in the case of an accidental incident you will have the necessary information onhand when talking to poison control and/or a healthcare provider. 
Here's a great article that provides in-depth information on some good options for childproof cannabis storage. 
You might also consider getting a lockbox for your edible products making them even more secure. 
Keep Products Out of Reach
We all know kids are curious, so while a lockbox or a childproof container is a great first step, also ensure that your edible cannabis products are stored somewhere out of reach and out of sight. It is also worth noting that cannabis and THC can be toxic to some pets, so ensure your storage place is also out of reach of your the little furry ones too!
Know What to Do in Case of an Accidental Exposure
If you suspect that a child has consumed edible cannabis look for symptoms like  loss of coordination, trouble breathing and drowsiness. Other symptoms may include: 
Vomiting
Agitation
Confusion
Slurred speech
Unsteadiness on feet
Muscle weakness
Coma
Seizures (rare)
If your child is experiencing any of these symptoms but they appear minor, your next step will be to call your provincial poison control centre. If your child is experiencing more severe symptoms call 9-1-1 immediately. 
Here's a full list of provincial poison control centres in Canada and their contact information: 
Like any drug, cannabis requires proper dosage, healthcare supervision and safe storage to avoid accidental consumption. Take these simple steps and you will greatly reduce the risk.